For current heating oil prices, service area and available delivery dates please visit our heating oil delivery website:
We have been providing our Suffolk County community with quality heating oil and diesel fuel for over 25 years. We've served thousands of residential and commercial customers from Wading River to Brentwood. You can expect low heating oil prices, reliable and friendly service and fast delivery from our Long Island family-run company.
Why choose Domino Heating Oil delivery service?
COD Oil Delivery
Certified Meters for deliveries
Residential and commercial heating oil deliveries
Emergency Heating Oil Delivery Service
Phone and Online Ordering
Pay with cash or credit card (Visa, Mastercard and Discover)
Service Contracts
Same-day and next-day deliveries available
Sunday deliveries available
Call us today to schedule your heating oil delivery and find out why thousands of Long Islanders rely on Domino Heating Oil to keep their homes warm!
631-867-2231
10 Tips to Help You Save on Heating Oil Costs
There are several simple steps you can take in order to reduce your heating oil bills this winter.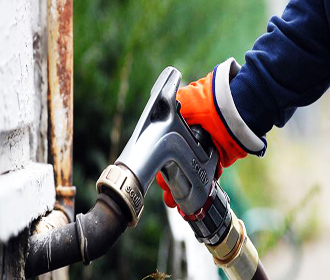 1. According to the Energy Communications Council an annual heating system tune-up will keep it working efficiently, saving you up to 10% on your bill.
2. Another easy thing you can do is to open your blinds and curtains when the sun is out – this will help warm your home during the day. When the sun goes down, close them to reduce heat loss.
3. Watch your thermostat – if you're not at home, lower your thermostat – lowering the temperature even slightly when you are away may save you up to 2%. In addition, you may want to replace your manual thermostat with a programmable one, and lower it just a few degrees while at work or sleeping. A programmable thermostat will pay for itself through lower energy costs in about a year.
4. Wrap exposed pipes with proper insulation to prevent heat loss and freezing.
5. Eliminate drafts by properly sealing any gaps between your threshold and door. Older homes may also have drafty windows – you may purchase window insulation kits at any big name retailer or hardware store – these are specially designed to insulate windows and prevent heat from escaping. Or you may choose to caulk or recaulk exterior spaces between the windows and walls of your home. Another option would be to install and close storm windows.
6. Remove furniture that's in front of radiators – this blocks the heat from circulating and warming your home efficiently.
7. Close your kitchen vent, fireplace damper and closet doors, and remove, cover or close air-conditioning units and vents when not in use.
8. Ensure you have good insulation in exterior walls, ceilings with cold spaces above, and floors with cold spaces below.
9. Keep in mind that hot water uses fuel too so take notice of how much you use, and make an attempt to reduce consumption.
10. If your heating system is more than 20 years old, consider replacing it with a new one – modern heating systems are designed with efficiency in mind and can cut your heating costs as much as 25%.
By following these 10 tips you can slash your heating oil costs considerably. For more information on Energy Research and Development please visit http://www.nyserda.ny.gov and Oil Burner Service Long Island
Tags: cod oil long island, home heating oil long island, heating oil delivery suffolk county ny, heating oil prices, heating oil companies, home heating oil prices long island