How to prevent gelling in your oil burner when temperatures drop below freezing
When the temperature outdoors drops to freezing (32F or 0 C) the heating oil in your tank starts to thicken. Some people refer to this as "freezing" but what actually happens is a gelling process where heating oil doesn't freeze but thickens or gels like a soft wax-like material, the reason being that the paraffin or wax in heating oil starts to crystallize, separating itself from the oil compound.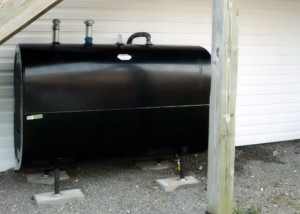 This brings its own set of challenges because the accumulation of paraffin and wax starts to clog fuel lines and filters, making your heating system unable to perform its function. There are several simple steps you can take to stop this from happening, and to ensure that your heating system/oil burner performs at peak efficiency during the winter.
With above-ground outdoor oil tanks heating oil gelling is very common with low temperatures. If a home or business owner isn't aware of that potential issue and the steps they need to take to prevent it, the gelling or thickening of the heating oil in the tank can cause clogs in fuel filters and lines and also result in less heating oil going to the oil burner. If you think your fuel lines and filters are clogged, and your heating system isn't operating efficiently, contact your heating oil company to clean and unclog the gelled oil. We at Domino Oil Burner Service Long Island get a lot of calls from customers experiencing this very problem during the cold weather months.
Here's what you can do to prevent gelling in your oil tank in the future:
1. Ask your heating oil company if they use a special blend of oil to prevent gelling. This blend usually contains some kerosene, the amount of kerosene depends on the temperatures of your region. This type of heating oil blend can be a little more expensive per gallon (10-20% more) but it would guarantee you a continuous and uninterrupted use of your heating system in regards to gelling problems. It also lessens the chance of potential oil burner service calls, and repair and maintenance costs.
2. Another option is to purchase a fuel additive sold at hardware stores and use it every time you get a heating oil delivery. This will also prevent fuel gelling. Additionally, putting some kerosene in your oil tank will help reduce fuel gelling. The way it works is by mixing in kerosene the freezing point of oil fuel is reduced and allows for easier transmission through the fuel line. The amount of kerosene you need to add depends on the cold temperature ranges for your location so check with your heating oil company for the correct kerosene ratio.
3. Another thing you can do is to reduce your oil tank's exposure to cold temperatures – this is one of the best ways to prevent gelling. One way to do that is to build a shed around your outdoor oil tank; also have the fuel line that goes into the house buried deeper than the frost line. When building the shed make sure that there is enough airflow between the oil tank and the house, and also between the oil tank and the shed walls. You could also add a small heat source in the shed to maintain an above-freezing temperature level.
4. For improved oil flow to the oil burner consider installing a fuel line with a larger diameter. You can also wrap any pipes and fuel lines that are outside with a water-resistant insulation material. Make sure that all opening are well sealed in order to prevent contact with the cold air and/or ground surface. Preferably however, the best option would be to have all fuel lines inside your home or business.
5. Change your oil filter annually for best performance and make sure it's installed indoors which is the norm for most heating system installations. If your oil filter is outdoors the chances for it clogging are far greater. It's best if the filter is indoors close to the furnace or within a heated shed.
6. Install an adhesive electric heat sheet to your tank. A heat sheet is usually placed on the bottom of the oil tank to take advantage of the fact that heat rises. The rising heat will then stir the oil with a thermal action and boost the temperature of the oil inside the oil tank so it gets more stable. The cost of installing and using an electric heat sheet varies with the sheet size and features. Your heating oil company can provide you with an estimate and install the heat sheet for you.
Following these few tips will guarantee that your home or business will be warm and comfortable during the cold winter season.
Tags: prevent fuel gelling, oil tank removal long island, oil tank installation, oil gelling, oil burner service, boiler repair, furnace repair
Back to Oil Burner Repair Resources