24 Hour Furnace Repair Long Island
Every Long Islander understands the necessity of a working furnace in the brutal New York winters.  If your furnace breaks down and the temperature outside is in the 20s, you can't afford to wait long for a repair.  Here at Domino Oil Burner Service Long Island we offer quick and affordable furnace repair Long Island to keep your home warm and keep you satisfied.  We offer low prices, fast and reliable service, and professional attention to detail.
How does my furnace work?
The furnace transfers heat into the rooms of a building through an intermediary distribution system.  If the furnace distributes heat through water or steam, then it's called a boiler.  The most common fuel source for modern furnaces is either gas or oil.  While oil furnaces are able to achieve a higher AFUE rating in some cases, the fluctuating price of oil make gas furnaces much more common.  Most modern warm air furnaces use a fan to circulate air to the rooms of the home and pull in cooler air to reheat, in a process called "forced-air heat".
How quickly can you repair my furnace?
Our customers in Suffolk County and Nassau County, NY depend on us with their furnace repair, and we do not disappoint.  Our 24-hour emergency service guarantees to get your furnace up and running ASAP.  Call us right away and we'll do our best to get to you the same day, including weekends and holidays.  Our team of professional technicians and staff are on call to provide you with emergency services along with general maintenance services, such as annual check-ups for your furnace.
What types of furnaces do you repair?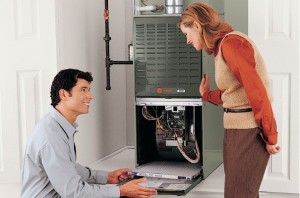 We repair a variety of burners to ensure that we can help you to properly heat your home.  There are three types of furnaces: single-stage, two-stage, and modulating.
Single-stage furnaces have one stage of operation: on or off.  They are noisy, always running at the highest speed and pumping out the hottest air at the highest velocity.  Their simple technology makes them inexpensive to install.
Two-stage furnaces either run at full speed or half speed.  They can be much quieter and move the air at a lower velocity, making them better at keeping the desired temperature than single-stage furnaces. Modulating furnaces can modulate the heat output and air velocity at a nearly continuous rate, saving energy and money.
Why Domino Oil Burner Service?
Maintaining the quality of your furnace is essential in maintaining the heat and comfort of your home.  The best way to ensure you have the right people working on your furnace is to go through a licensed seller and maintenance company.  We are fully licensed and have been providing furnace installation, repairs, and replacements for decades.  You can obtain our emergency furnace repair services at affordable rates.  We maintain a high level of trust with our Long Island clients both in Suffolk County and Nassau County, NY, so give us a call and we'll fix your furnace- guaranteed!
Call Today For Same Day Furnace Repair Service