Emergency heating oil delivery and heating repair available


Call now for immediate response: 631-867-2231
We Are Open 24/7, including weekends and holidays
Same Day Burner Service Appointments Available
We Offer Burner Service Contracts with 24/7 Emergency Service – 

Call to Learn More
FAST Oil burner service – Licensed and insured – Serving since 1981

Here at Domino Oil Burner Service Long Island we specialize in oil burner service, oil burner repair and maintenance. We serve Suffolk County and Nassau County, NY, and we offer low prices, fast and reliable service and professional attention to detail. Home heating service, maintenance, installations, and gas conversions are just some of the services we perform.
Hundreds of Long Islanders trust us with their heating systems repair and maintenance, and so can you. We service all types and makes of burners including gas and oil burners!
Call us today – 631-867-2231
If you need heating oil delivery please visit DominoFuel.com for pricing
Contact us today and and see how we can help you get and keep your heating system running at peak efficiency
Our services include (serving both residential and commercial customers):
Oil burner service
Furnace repair
Furnace installation
Furnace cleaning
Oil tank removal and installation
Furnace repair
Chimney cleaning
Heating system maintenance and repair
Commercial heating oil delivery
COD Oil deliveries
Gas and Electric Conversions
Burner service contracts
Heating service budget plans
Heating system installation
Heating system repair
Fuel oil tank installation
Fuel oil tank inspection
Oil Boiler installation
Oil Tank replacements and abandonments
oil tank removal and installation
Installation of hot water heaters
Installation of baseboards
Burner installation
Burner repair
Efficiency boiler installation
Efficiency boiler repair
Annual boiler cleaning
Burner parts repair
Burner parts installation
oil burner replacement cost free estimates
Emergency oil burner service and oil boiler repair services
We provide emergency burner service, annual burner tune-ups, boiler cleanings and vacuumings, service contracts and hot water repairs.
We are an oil burner, home heating repair company that serves customers who use discount oil companies, or cod oil companies. Consumers who use cod oil typically don't have service contracts so we provide them with emergency services along with general maintenance service like annual check-ups for thir heating equipment on a per call basis.
In case of emergency, please call us right away and we'll do our best to get to you the same day. We are entirely committed to meeting all your home heating needs with professional, friendly and reliable technicians and staff. We are here to serve you 24/7, including weekends and holidays.
Fast and reliable service guaranteed! Our customers rely on Domino Oil Burner Service Long Island because of our dedication to excellent service, integrity, professionalism and attention to their needs. Our trained and certified technicians will repair and maintain your home heating system, and keep it working like new! They also carry a supply of parts to ensure that they can get your system working at top efficiency, getting you the most out of your heating dollar.
COD Burner Service and Contract Services
Oil burner service contracts available, which includes:
1. Oil Burner Tune-up and Adjustments: we'll inspect, clean, vacuum and make all repairs and adjustments on your oil burner and controls when necessary
2. Emergency service: Emergency service is available 24 hours per day, including Saturdays, Sundays, and holidays during the heating season.
3. Repair and replacement of defective parts: during the term of your agreement we'll replace any of the following listed parts as applicable to your heating system:
Oil burner components ♦ Draft regulator ♦ Pressure trol ♦ Dual valve ♦ Delayed Oil valve ♦ Stack relay ♦ Altimeter gauge ♦ Flo valve ♦ Firematic valve ♦ Cad cell relay ♦ Fan belt  ♦ Thermostat (plain) ♦ Oil filter and cartridge ♦ Aquastats ♦ Fan control ♦ Thermostat relay ♦ Emergency switches ♦ Glass gauge ♦ Limit control ♦ Circulator motor ♦ Fill and vent caps ♦ Pressure gauge ♦ Blower motor up to 1/3 HP ♦ Circulator pump
We carry the best, most technologically-advanced equipment available on the market, from manufacturers who stand behind their products with quality and performance warranties. For superior burner and furnace cleaning services, call the experts at Domino Oil Burner Service. Serving Long Island, NY and the surrounding area, we provide cleaning, repair, and replacement services for your burners, boilers, heating systems, furnaces, smoke pipes, and chimneys. We offer 24-hour emergency services.
Ran out of oil? No problem, just ask about our prime and start special! We service all types of oil-fired burners including Riello, Beckett, Carlin and all types of boilers from Peerless to System 2000.
We are a fully insured company that offers quality service on all oil burners and heaters. Contact us today:

631-867-2231
Why Oil Burner Service and Heating System Maintenance Goes a Long Way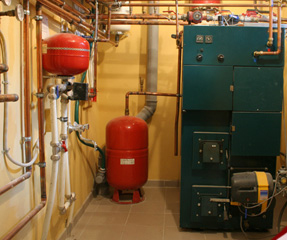 Oil burner – the core element of any furnace or boiler. In order to keep your oil burner functioning well, you need to maintain it regularly. Unfortunately, many people tend to forget about servicing their oil burner until something goes wrong with it. There are a few simple steps you can take to prevent that from happening. These following suggestions are referring to Beckett burners since they are the most commonly-used brand out there.
The first thing to do would be to filter out the water from your tank. Water in your tank can be bad because it actually corrodes the oil burner and interferes with the function of the nozzles which depend on fine mist to operate efficiently. Water can accumulate in your tank faster than you might think. Sometimes, technicians drain tanks where nothing but water comes out for the first few seconds. Now, you might think that your container is sealed but really all it takes is a little bit of water over a period of time to cause a big issue.
To minimize water accumulation in your tank ensure that the vent cap and the fill cap are in place and tight. You should also clean snow, ice and any other debris on top of your oil tank. In addition, you can use additives in your tank and whenever you see water collecting in it, just pop the water drain plug.
It's important to have your oil burner tuned-up annually. Our professional technicians have all the necessary tools to check your heating system and ensure that it's working properly. They will check if anything is out of place, measure the CO2 levels and check the wiring.
One of our certified burner technicians can analyze your whole heating system and check if your system is working to its full potential or if it needs some work. They'll also check your tank to ensure that it doesn't contain water, and they'll adjust the controls, switch the oil nozzles, and change the fuel and air filters.
Also consider replacing older heating systems. If your heating system is over 20 years old and it's just not working the way it should, consider buying a new one and replacing it. It's common for homeowners to experience 20% fuel savings after upgrading from an old system to a new, high-efficiency heating system.
You can ask your technician if he can downsize your nozzle, the reason being that smaller nozzles generally allow your system to run longer while burning the same amount of oil. This option is great because it's easily done and inexpensive way to increase your system's efficiency.
Check your oil tank regularly to make sure it's not leaking. Oil tanks start to leak from the bottom first; to check for leaks run your hand under the bottom to see if there are any areas of dampness. For warm air distribution systems ensure that air filters are replaced and cleaned as required. With hot water distribution systems, fix leaks as soon as you notice them and make sure air locks are not compromising water movement.
By following these suggestions you can make sure your oil burner will continue to work efficiently for many years to come, and keep your home nice and warm winter after winter.
Types of furnace burners we work on
At Domino Oil Burner Service, we stock, supply and install a variety of burners for our Long Island, Suffolk County & Nassau residents. The purpose of this article is to explain the differences between different types of burner. Let's start with a brief explanation of what a 'burner' is. Burners can vary in appearance but generally look like a boxed shaped object with protruding pipes. The purpose of this component is to mix air with fuel and burn the combined elements to generate heat throughout your property.
Gas Furnace Burners
Gas furnace burners look like small to medium cabinets. The important thing to keep in mind is compatibility with your heating system and the AFUE rating. A 90% AFUE rating is the ideal standard but that will depend on the age and model of your furnace. As winters can be harsh in Long Island, you will want an efficient gas burner that doesn't waste and expend fuel and heat. Models older than 10-15 years will have shortcomings when it comes to producing and containing optimum heat levels. Popular and reputable brands include American Standard, Goodman, Lennox & Bryant.
Oil Furnace Burners
Oil furnace burners resemble medium to large cabinets. Over time they have become less common in comparison to their gas counterparts. They have the advantage of being able to achieve 95% AFUE ratings in some cases. However, oil furnace users are burdened with the fluctuating price of oil, a problem that can exasperate during the winter months when more oil is needed to keep the heating on longer.
While there are other types of burner, for this article, we wish to concentrate on the two most commonly used ones. Very few people use coal fired or propane burners and we would always recommend upgrading from such systems to improve your carbon footprint, safety, and heating efficiency. energystar.gov lists Bosch, Bradford White, and Buderus among the top performing brands.
What A Good Gas/Oil Furnace Burner Should Have
Two-stage pressure control valves to maintain a good temperature and flow cycle of fuel.
Programmable thermostat- By setting the thermostat for times when you're home and when you're not, a great deal of energy and money can be saved.
Sealed combustion to protect your property from the harms and dangers of carbon monoxide.
Extensive warranty- The longer the warranty, the better. Things can and do go wrong and you want to have as much cover as possible.
Furnace Installation, Repairs, and Replacement
The best way to ensure you purchase or upgrade the right burner is by going through a licensed seller and maintenance company. Domino Oil Burner Service is fully licensed and has been providing burner installation, repairs and replacements for decades. You can seek advice from us, buy from us at affordable rates and get your repairs and servicing done through us too. Trust, reliability and a high standard of professionalism are the principles we pride ourselves upon. Give us a call for all your burner related needs and we'll be right there to serve.
Serving All Long Island, including these areas:
Blue Point | Brookhaven | Ronkonkoma  | Medford | Huntington | Islip | Holbrook | Middle Island  | Coram  | Centereach | Smithtown | Yaphank | Patchogue | Central Islip | Selden
Tags: oil burner service long island, oil burner repair, furnace repair, oil tank removal, oil tank installation, oil to gas conversion, heating oil delivery, cod oil long island, heating repair, heating service, burner tuneup, heating repairs, emergency burner service